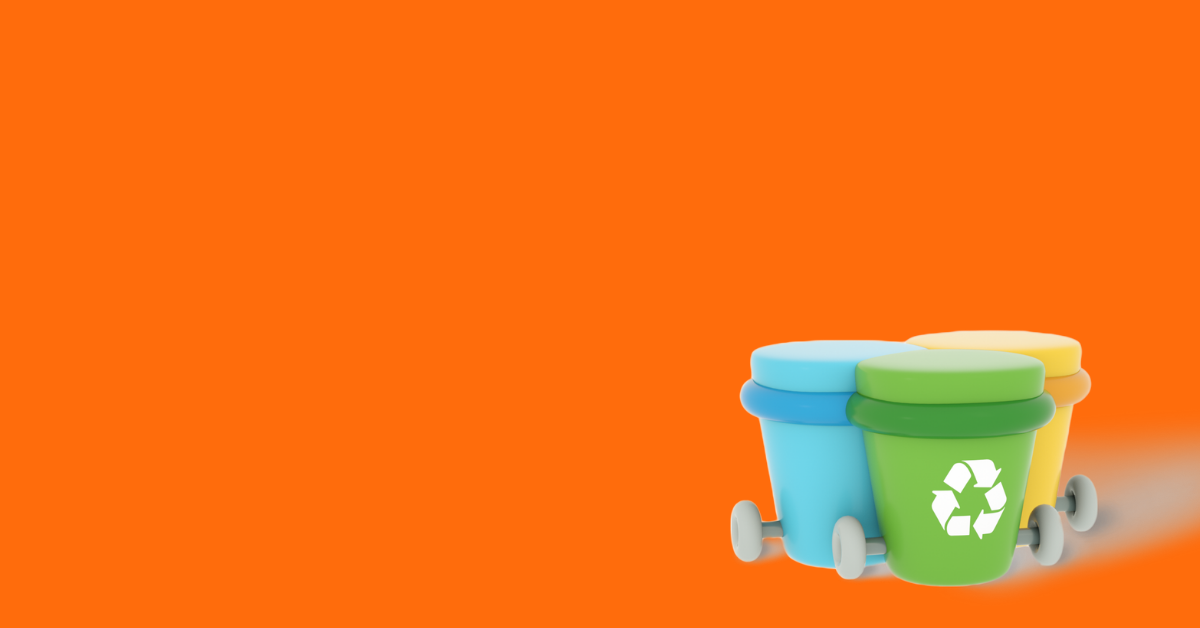 The future of retail waste management doesn't have to be scary
This is the second article of a two-part series examining a future in which retailers can better maximize profits while eliminating waste streams. In our first piece, we explored Smarter Sorting's "Dynamic Routing" system, built to optimize retail waste-hauling practices. Today, we consider what other factors are needed to realize an optimized retail waste-management future.
Great news: a government official is dropping by your store to make sure your retail waste management operations meet regulatory standards. Exciting, isn't it?
Before you know it, you'll have an opportunity to make a new friend, fill out a few pounds of paperwork and (maybe, if you are lucky!) contribute some extra money to the government coffers because of a waste-management violation.
And more great news: they'll be back again soon!
**(insert vinyl record scratch indicating none of this makes any sense here)**
Okay, I'm guessing you don't consider any of this to be great news, and you may very well be in the fetal position while reading this sentence. Take a breath, and know this doesn't have to be your future.
Smarter Sorting is here to help create a tomorrow that doesn't have to be scary for retailers or waste haulers. Let's examine what this waste-minimizing future would look like in more detail.
More accuracy around retail waste = fewer regulatory hurdles (and visits)
The Smarter Sorting platform was built to provide retailers and their waste haulers with shared access to data regarding regulated waste management. This transparency could help retailers with generator status optimization issues. Meaningful, shared data and close partnerships with waste haulers would give retailers the confidence to manage regulated waste on a store-by-store and item-by-item basis, instead of managing inventory too conservatively for the sole purpose of avoiding regulatory penalties. Smarter Sorting's machine-learning platform would make this process straightforward because it automates waste management decision-making. The machine—not the person—is the decision engine.
With detailed record keeping and effective waste minimization, retailer generator status levels could potentially lessen, minimizing regulatory burdens (e.g., paperwork, on-site pickups, etc.) and cutting costs. Retailers previously designated as large quantity generators (LQG) might transition to a small quantity generator (SQG) status—or even a very small quantity generator (VSQG) status. For some retailers, pickup times could be reduced to just one annual visit and stop fees could decrease by as much as 84 percent.
Furthermore, transparent documentation would allow haulers to document proof of compliance once the waste is processed. Both haulers and retailers would receive full transparency regarding product lifecycles while tracking disposal outcomes in real time. Transparency would also allow system users to automatically audit invoices for volumes and pricing to verify exact charges (which would reduce accounting costs).
Finally, industry-wide, item-level, data-driven transparency would allow items currently called "waste" (such as perfume, bleach, and detergent) to be managed as commodities, and diverted from waste streams to salvage, donation or reuse pathways. A combined technology program would ensure consistent product handling based on the rules defined by the hauler, the retailer and the Smarter Sorting platform.
'Scan and go'
With both the retailer and waste hauler using the Smarter Sorting platform, the time required to handoff waste from retailer to hauler would be drastically cut. With waste tracking data already being shared by the partners, haulers would only need to verify the materials for acceptance from the retailer—a "scan and go" operation. Cloud data would be synced automatically, and the manifest could be preprinted.
The time reduction would lower operational strain on retail and waste hauler employees while opening up valuable physical space in a store. Additionally, the utilization of machine learning to classify waste would simplify training and knowledge requirements for all involved parties, reducing overall program times and expenses. Smarter Sorting's technology would also allow for cross-functional drivers and trucks, meaning that hauling operations would require less specialization.
A better way forward
Streamlined operations and complete, data-driven transparency afforded through a combined technology platform would create new opportunities to reduce operational costs for retailers and haulers while increasing sustainability—turning waste management into materials management. The platform could also help support changes in the regulatory space to drive further efficiencies and empower sustainability initiatives.
See, I told you: you can get out of the fetal position now.